The MSPT (Mid-States Poker Tour) $360 Regional Black Hawk is over, with Juan Perez winning 44,079 dollars as the winning prize. The event garnered 998 participants, and over 90% of them left home after the first day.
The second day started with 144 players, and after ten hours, only three remained on the table. The top three players agreed to an ICM chop where Juan Perez scored first place. Jeff Heiberg placed third and won 34,797 dollars, while James Callnan finished second and won 36,087 dollars.
Juan surprised everyone by stating it is the player's first live tournament. Although the poker community is not familiar with the player, Juan showed amazing plays to win. The player is accustomed to playing regular cash games, but Juan's wife forced him to participate this time. The decision turned out to be an amazing one as it converted Juan's 360 dollars into 44,000+ dollars.
The first day was not the best for the player as Juan ended it with an average stack of 111,000. The second day witnessed Juan's grind to climb the ranking ladder. The player shared how weird it was to play over 10 hours of poker and not walk away with net balance. However, the player optimized the chips and earned over 120x in profit.
Juan talked about his mentor, Doc August, and how the coach helped him get better. Here is an overview of the final table: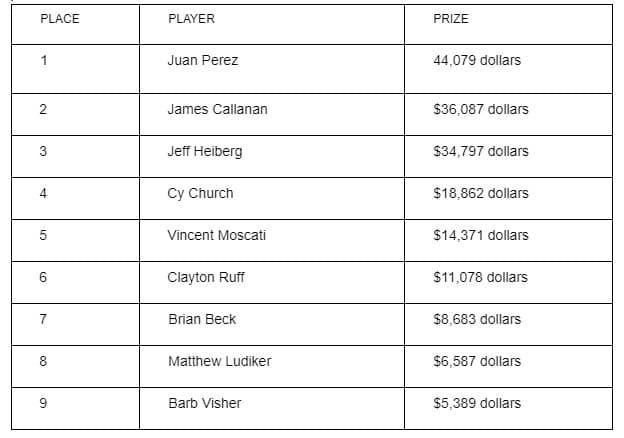 Now that Juan has tasted victory, the player is sure to try out big leagues in the coming time.